Posted on 23. Mar, 2011 by Administrator in Fashion, Film/TV, hCovers
by Brent Simon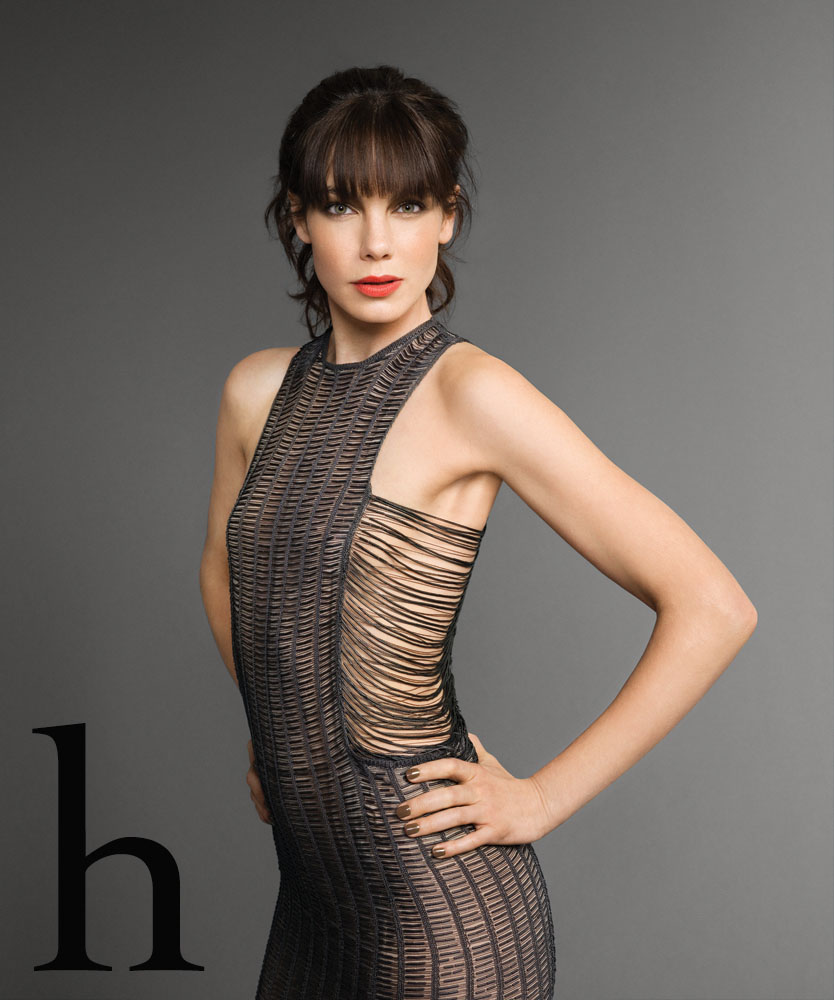 Photography by Robert Todd Williamson
Styling by Lisa Michelle Boyd
Make Up Shane Paish
Hair Gio Campora
More than a few crummy Catskills comedians have made careers out of little beyond mocking women drivers, but actress Michelle Monaghan belies those stereotypes. And, by God, if need be she will happily parallel park an 18-wheeler just to prove it — a skill she picked up while crash-training for her role in 2009's gritty indie film Trucker.
Still, perhaps the funniest thing about this anecdote is the blend of adventurousness, savvy, and foresight it illustrates. Monaghan may be open to some degree of risk with her career choices, but she's no fool. "If you ever get pulled over, it's like triple the fine," she says of the Class A commercial driver's license she honestly earned. "So I just let it expire, I figured I wasn't going to be driving a truck anymore. But for over a year it was the real deal."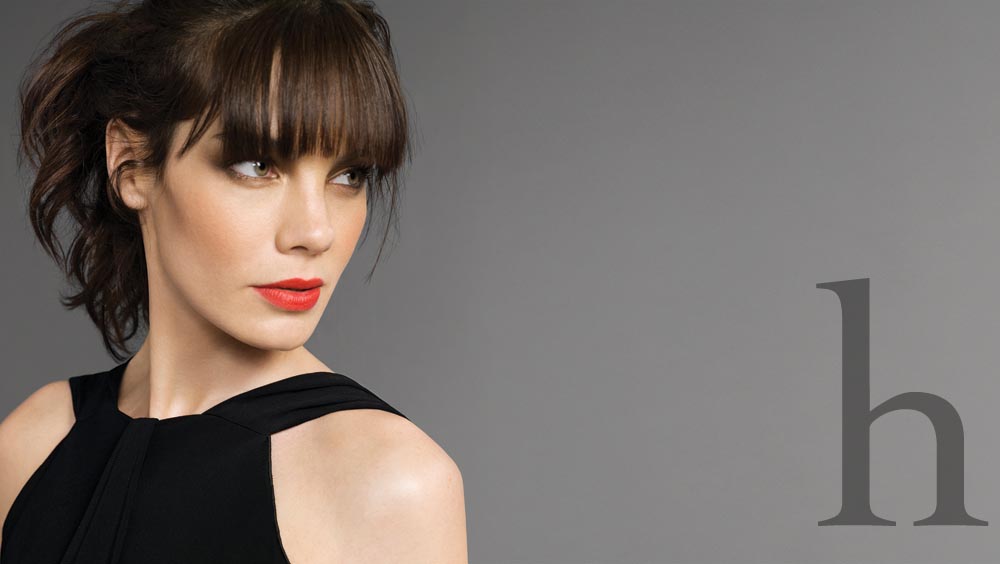 That same phrase, the real deal, is an apt description of Monaghan herself, who seemingly possesses the winning hand of traits — talent, brains, humor, a personable nature and bombshell-type looks minus any projected narcissism or cloying condescension — that help actresses win fans in gender-equal fashion. In person, over coffee, Monaghan has a hearty, deep-throated laugh that can explode forth in an unfortified manner, and eyes that occasionally flash in a playful style, ["not unlike" rather than like?] like a DSL router. She's not above a jokey cat's growl to emphasize a particular point while talking about fashion, or the sort of digressive aside one might expect more from a chitchat with a friend rather than in a formal, structured interview.
Monaghan is a lively conversationalist, and even what might seem on the surface like a foible in a deeper relationship — a penchant for an interjected "Yeah, yeah, yeah…" as a sort of chatty call-and-response — comes across as not irritating, but instead charmingly suggestive of an innate enjoyment over human connections, in grasping a lobbed theory or point, regardless of whether or not she ultimately and entirely agrees with it.
It's that affinity for intellectual engagement and artistic collaboration that seem to have informed some of Monaghan's biggest life decisions. In 2000 she made a bold leap, dropping out of Chicago's Columbia College only 13 credits shy of a journalism degree and moving to New York City to continue modeling, which she had heretofore been dabbling in, for a variety of stable but perhaps unsexy clients such as Target and Montgomery Ward's. "It just felt like something might happen for me there. I thought New York would be a really inspiring place for me to go," she says with a reflective smile.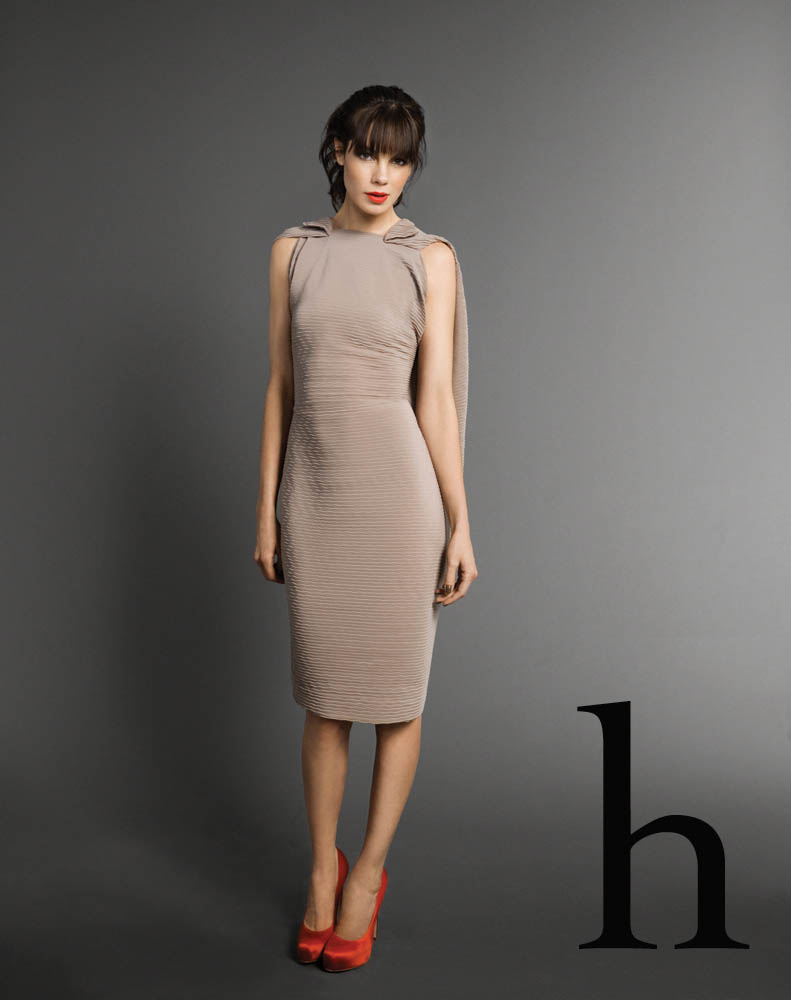 In a couple years, she was acting too. In high school, in her small hometown of Winthrop, Iowa, Monaghan had dabbled in musicals like Annie Get Your Gun, and even experienced a positive reaction, though strangely, no connective occupational synapses fired at the time. "I remember the first time before I went on stage, my whole body heated up to 150 degrees and everything started to ring in my ears," she says. "I didn't know if I was on the edge of a panic attack, and then I went out there and we did the play. I came back offstage when it was done and said, 'What just happened?' It was the most extraordinary thing - a combination of being exhilarated and profoundly freaked out."
As she got more and more into acting, Monaghan's years of modeling work actually helped hone her skill with auditioning. "That background where I was rejected so much on a daily basis [made] auditioning an easy transition. Getting up and being judged was very routine," she notes. "It was just a different way of expressing myself, it wasn't something that I felt uncomfortable about. I could walk out of a room and be like, 'Well, that didn't go well,' but I didn't beat myself up over it either."
A couple bit film roles and even more TV work, including a recurring guest stint on Boston Public specially created by David E. Kelley, gave Monaghan crucial work experience and confidence to boot, but it was her engaging showcase turn in Shane Black's woozy and self-referential neo-noir dramedy Kiss Kiss Bang Bang, opposite Robert Downey Jr. and Val Kilmer, that most caught Hollywood's attention (as well as that of Santa Claus outfit fetishists everywhere). That performance led to a string of successful high profile films, kick-started with a starring role opposite Tom Cruise in Mission: Impossible III.
If Kiss Kiss Bang Bang was her debutante ball debut, though, James Mottern's Trucker was a necessary pivot to show that Monaghan was capable of transcending flinty supporting roles (North Country) and frothy/functional leads that traded chiefly on her relateable prettiness (Made of Honor, The Heartbreak Kid, Eagle Eye), and truly anchoring a film on her own. In the unsentimental drama, shot in 19 days, Monaghan plays Diane Ford, a stubborn working woman whose decided lack of maternal instincts get challenged when her estranged 11-year-old son gets dumped back into her life. It's a role which requires a tightrope-walk blend of disagreeableness and latent hopefulness, and although it didn't get a fair shake as a theatrical release, Monaghan still clearly has a deep affinity for the movie, and uses it as a sort of touchstone for the plotting of future cinematic opportunities of which Hollywood might not necessarily provide her.
"Trucker, to me, was the role of a lifetime," she says. "It caught me in the gut so much, because here was a woman who was not very nice, who bucked the system. It scared the living daylights out of me, and I think it was representative of a range that I hadn't been considered for."
"I didn't want to make a political statement or something, but I thought it was fascinating to explore a woman who just loved her job, loved being out on her own," Monaghan continues. "I compared her to a wild horse or a mustang; you could try to wrangle her, but you could never tame her. And whether it's big or small I want to be able to throw myself into something like that that rings true to me — a role that is representative of real women, that's provocative and conflicted. Those are the things about which I'm so passionate."
Provocative certainly describes Monaghan's latest film as well. A sci-fi-tinged thriller with intriguing ethical underpinnings, Source Code centers on a soldier (Jake Gyllenhaal) who wakes up in the body of an unknown man on a train outside of Chicago, and finds he's part of an experimental government program that enables him to continually relive the last eight minutes before a deadly terrorist explosion. After rapidly orienting himself, he must try to find both the bomb and bomber, in an effort to prevent another, even larger attack. Along the way he develops a special bond with Monaghan's fellow commuter.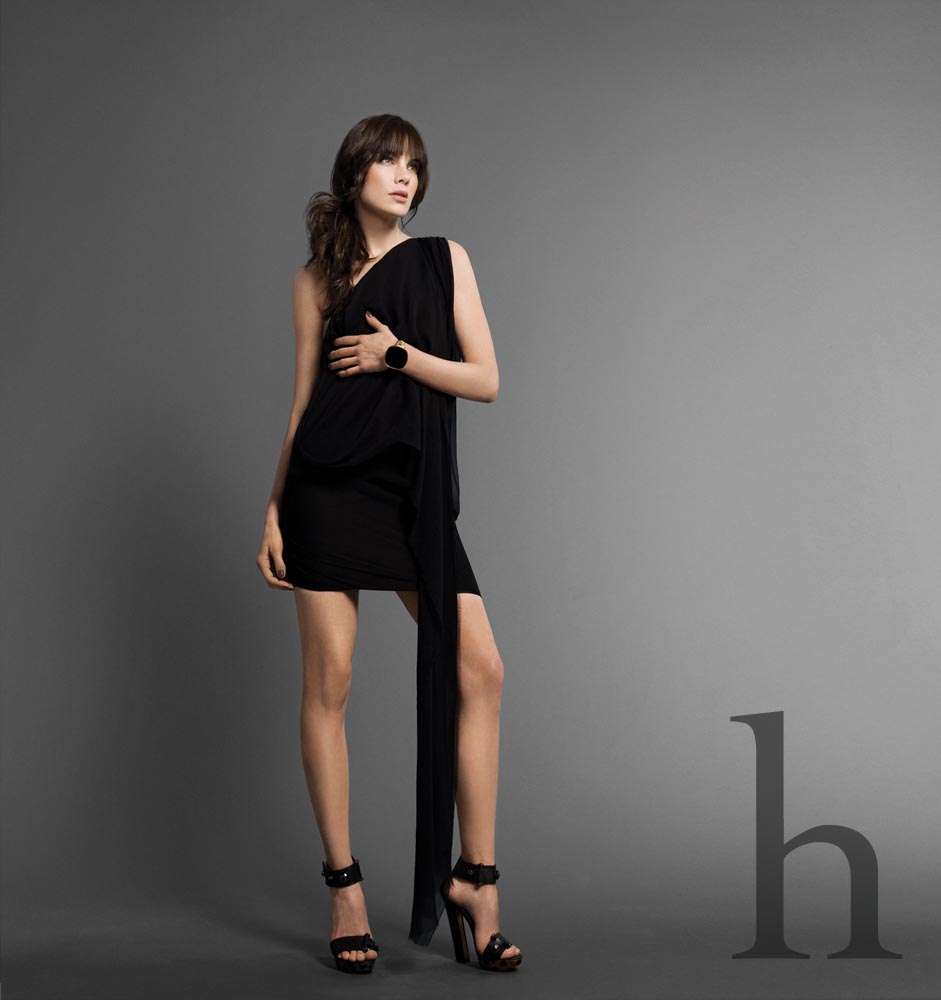 Ironically, it was actually another audition close call that first put Monaghan in good stead with costar Gyllenhaal, as she was a serious contender for Anne Hathaway's role in Brokeback Mountain. As a fan of director Duncan Jones' previous film, Moon, Monaghan knew he would have a grasp of the necessary special effects and a strong visual sense to boot, but she was understandably concerned with being able to differentiate between its replayed "source code" scenes, and make the film engaging on an emotional level.
"Both Jake and I wanted to make sure we were on the same page, and have [this] story within the story. You're discovering it through his eyes, so it's exciting to see these characters' bond start to develop," she says. "The wonderful thing we were able to do was [shoot] in sync, so we really knew where we were going with the story at any given time. [Cinematographer] Don Burgess and Duncan shot with different lenses and perspectives, outside the train looking in, trying to keep the story [from] feeling stagnant. And Jake is so bright and supportive, in addition to being a great actor; he's so clued in creatively. So we would take an hour or more between each source code and just all sit on the train and map it out in our heads — what would make this source code unique to the other source codes, trying to keep the relationship moving along."
All that tinkering paid off. The end result pops, pulling off the rare feat of offering up a catharsis that raises some questions but doesn't seem hokey or tacked-on. Monaghan claims non-recollection regarding the original ending in the screenplay she first read, but it's clear that, as with Trucker, Source Code was a script she reacted positively to early on, and dove into with passion.
After a brief (and unfortunately spoiler-heavy) dissection of some of the weighty thematic undertones of Source Code, the conversation turns to drinking, onscreen and off, and Monaghan soon confesses another winning quality to plenty of guys. "I'm pretty goofy, and a fun drunk," she admits. "I want to get up and have a boogie, like you just lit a fire under me." These days, however, her partying, as well as her avocational loves of vintage furniture shopping, hiking, and surfing (which she picked up from her husband Peter, an Australian graphic designer) have given way to family time, and baking with her near-two-year-old daughter Willow. "It makes the house smell so good," says Monaghan wistfully. "And now my daughter gets on the counter with me and we do it together. I love it, it's really fun."
After a decade in New York, Monaghan and her young family relocated to Los Angeles almost a year-and-a-half ago, thinking it would be the ultimate act of settling down for a self-admitted nomadic spirit who still occasionally dreams of living in Europe. "Literally the year that we bought a house, all the movies decided to start shooting in New Orleans and New Mexico, Austin and Detroit," she says. "It was like, 'Oh, it doesn't matter that we have a house in L.A. now because I'm not there anyway!'" If it sometimes seems just another place to decorate, then, Monaghan at least still has an instinct for how to make it homey. "They have great orchids at Ikea — it's kind of crazy, they're really cheap and they last for months. So anytime I go there I get the Swedish meatballs and those orchids. And maybe some tealight candles."
Next up for Monaghan is Marc Forster's Machine Gun Preacher, in which she stars opposite Gerard Butler as the wife of a repentant, rural alcoholic and criminal who finds Jesus, builds his own Stateside church and then devotes his life to opening an orphanage in the Sudan. It's an intense character study based on real events, and "another story that's not just black-and-white," the actress says. Independently financed and snapped up by Lionsgate, the film will release this fall.
She's also headed off to shoot Boot Tracks with Matt Dillon, a dark indie drama from director David Jacobson (Down in the Valley, Dahmer) which Monaghan describes as "a little Buffalo 66-ish movie about two little misfits who find each other, and a day in their lives, basically." The four-and-a-half-week shoot will put her back on the road, but Monaghan still wouldn't have it any other way. "I've been so blessed to have this job," she says. "I want to do it for as long as I can, I want to challenge myself, I want to be able to explore. Sometimes it may work and sometimes it may not work, but that doesn't mean I'm going to stick to just one genre. That's boring. I've done that and now I want to do something else."
Related Posts